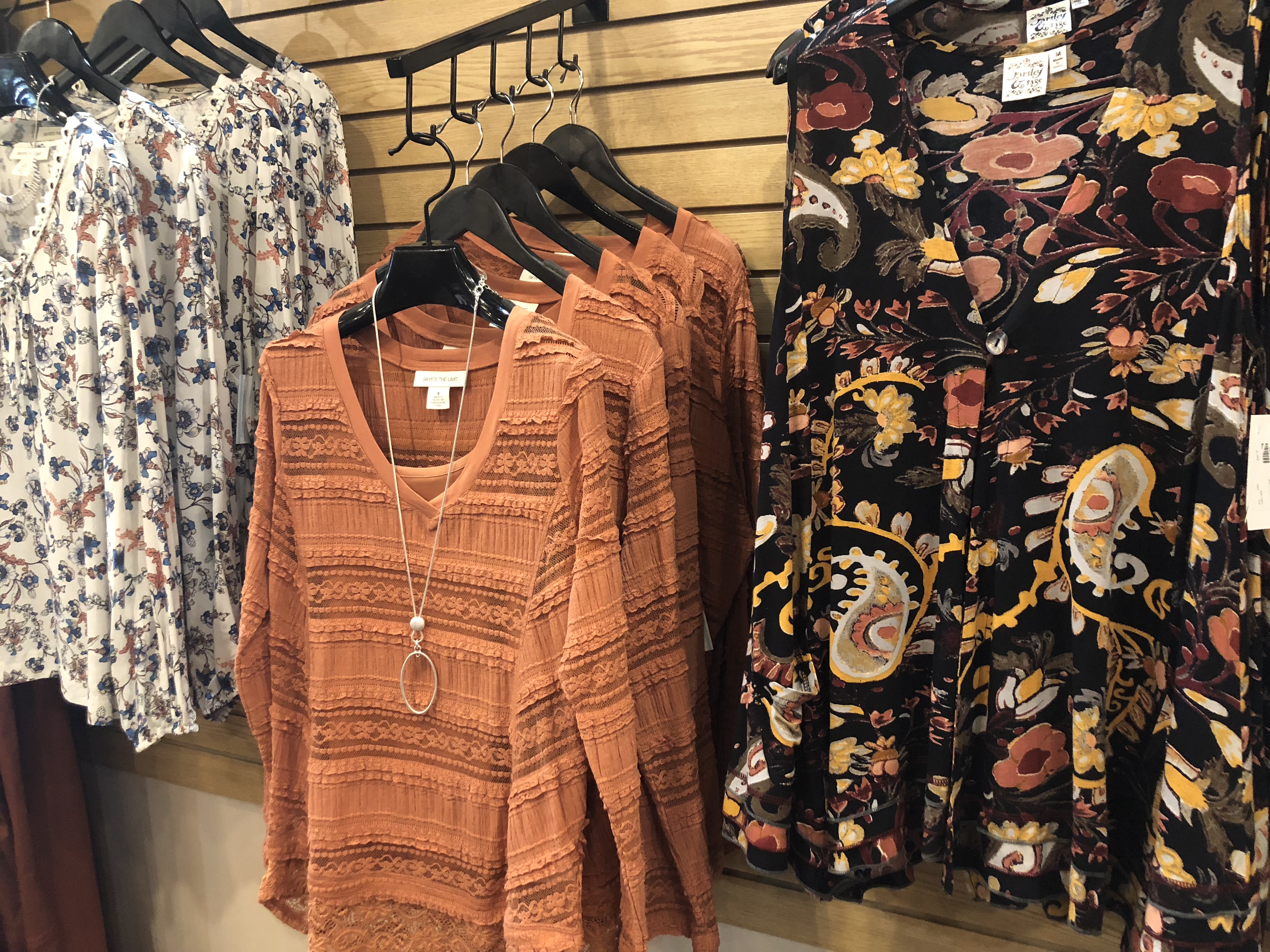 Cindy and Susan
Owners, More Excuses Boutique
About Cindy
Cindy Smith grew up in Independence, Missouri and moved to Kearney, Missouri at age 12.
She worked as an IT Manager for DST Systems in downtown Kansas City, Missouri.
Cindy married young and divorced young. She was a single mother who raised her 2 totally
awesome sons, Brandon and Clay. Today Cindy is grandma to 4 amazing grandchildren.
Cindy's initial career path was as a computer programmer and project manager at DST Systems.
After 25 years with DST and, once the financial responsibility of raising two sons was completed, she decided to jump into the challenging, risky and rewarding small business sector by opening More Excuses Boutique with her best friend and fellow DST alum, Susan Donnici.
Discovering her creative talents, Cindy does all of the merchandising and décor within the boutique. Utilizing her past DST skills, she also has primary responsibility for financial management of the boutique.
About Susan
Susan also grew up in Independence, Missouri. She is the youngest of 4 girls.
Susan and her husband Rock lived in the northeast part of Kansas City. Marrying Rock, Susan inherited children and grandchildren. After Rock's passing, Susan moved North of the River.
Susan worked as IT Manager for DST Systems in downtown Kansas City, Missouri.  After 22 years with DST Susan retired from her corporate career.
While Cindy was exploring her interest in design and decor, Susan was coincidentally discovering fashion and learning how best to dress and fit various body types.
Susan has primary responsibility over selecting inventory for the boutique.
Cindy & Susan
"We met when we were young computer programmers and became fast friends. Growing up together in the corporate world we learned to effectively and efficiently work together. On a personal basis, we were there for each other through life events, good and bad."
Becoming good friends over the years offered lots of opportunities to do girlfriend things – like shopping!
Cindy is 5'11" and a size 6. Susan is 5'10" and a size 18.
Going on a shopping trip usually meant 2 different departments and sometimes 2 different stores. Shopping wasn't as fun as it could be.
Susan typically had fewer choices and paid higher prices. At the time, the friends accepted those facts as normal.
More Excuses Boutique
After retiring from corporate careers, Cindy and Susan decided to enter the world of fashion. More Excuses Boutique was opened in 2012. Their mission was to create a similar shopping experience for all women regardless of size. Cindy and Susan will be the first to tell anybody customer service is as important as the clothes they sell. They absolutely love helping a woman find what makes her feel the best she can feel.
After 5 years, More Excuses found the perfect space on Liberty's historic downtown square.
More Excuses, carries clothing for women in sizes 4 to 24W.
More Excuses also has a full line of accessories; some names you'll recognize, along with local artists and jewelry smiths.
Our mission is that women should be able to shop together, regardless of what size they wear. Friends, sisters, mother and daughters, all get to shop from the same rack.
We offer unique accessories and apparel for the grown-ass woman and include work from small independent designers.
You won't see these items at the mall!